Whitepaper - Objective And Vision
ASIMI is built to provide a powerful, easily accessible cryptocurrency token that everyone can understand, use and earn.
Technological hurdles have held a lot of people back from participating in, and benefiting from, the incredible shift cryptocurrency has brought to our monetary system. We have gone to great lengths to make this as simple as possible.
Experience has told us that cryptocurrency is here to stay. It has changed the way we use, move and earn money. We also see the increasing numbers of people that are looking online for ways to make money from home, and in a marketplace filled with choice, it can be difficult to know what works.​
The Asimi token provides two solutions: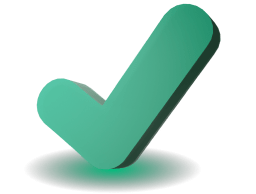 This symbiotic relationship brings two of the largest and most exciting online markets together:

Thank you for taking the time to review what we believe to be a revolutionary product and system within the crypto currency space.

Billions of dollars are spent, traded and earned in both of theses sectors every year. The information below explains the simple and powerful way Asimi is earned and used.
To produce the most simplified minting experience that rewards users in real value for their contribution and effort. Designed for mass adoption; Asimi will lead the way as a value-based utility token with a true purpose within the online advertising industry, helping thousands of people around the world benefit from the incredible world of cryptocurrency.
The name Asimi is the Greek-English translation for silver.
Silver has traditionally been given the form of the half-moon as you will see depicted on the coin.The engravings express the decentralized benefits of cryptocurrency.

Around the perimeter is inscribed: Silver – Asimi – Community Effort Minted Token. Silver plays an important role in our lives as a medium of exchange, a safe-haven investment, and a precious metal treasured in special items. It is also one of the highest level electrical conductors on the planet, being used in the manufacture of electronics, including cryptocurrency mining hardware.

We have chosen silver to display Asimi's value to the marketplace: an easily recognized, medium of exchange, used to trade and/or store value, that can be minted through effort.
Bringing It Back
To Basics
There will be NO Initial Coin Offering.
In our opinion, many new tokens on the market are not much more than a fundraising tool.​ We are not that.​ Bringing it back to the creation of Bitcoin, there was no ICO, there was no hype-filled promotional material.

It was simple: "here is the idea and here is how you can participate."​ We will grow Asimi based on this principle: We are not asking people to financially back Asimi based on an idea. Instead, we are looking for people who are interested in joining the community, allowing people to earn, use, and participate all for free. Asimi is a value-based utility token for the purpose of purchasing advertising and ad minting reward system.​​

It will be built from the ground up, with circulating supply starting at zero. Motivated users can mint the token via our unique minting proposition of viewing advertisements.

As minters obtain tokens, they would be free to use, hold, or sell them on the open DEX exchange.If people wish to buy Asimi, they would acquire Asimi on the same DEX exchange purchasing it from sellers, with no restrictions.
Minting is the creation of new Asimi tokens into circulating supply.
You can mint new tokens into existence via "Minting ads" in the "Ad Minter" at Hashing Ad Space.
Every day a total 17,438 (halving every 4 years) Asimi tokens are minted into circulation by our ad minters viewing advertisements. Minters are rewarded every day for minting ads. You can set up your ad minting profile by navigating to the Minting Dashboard and start minting for yourself. There is no technical expertise required to become an Asimi minter.
Your daily minting payment is determined by successfully completing your ad minting for the day. ("Qualified" for earnings).
The minting formula is as follows: (Totals based on Qualified Minters)
AOP = (AO/CwO) x 100




ME = AOP x MsP

Asimi Ownership Percentage: AOP
Asimi Ownership: AO
Company-wide Ownership: CwO
Minting Earnings: ME
Minting schedule payment: MsP

The amount of Asimi you own (AO) in your verified Minting Wallet compared to all other Asimi minters AO combined value. When you successfully mint for the day, you will be included in the MsP for that day.
Your daily minting payment is determined by successfully completing your ad minting for the day. ("Qualified" for earnings).
The ad view formula is as follows.
PaM = (TM x MaV) x AoP

NOTE: Final PaM is adjusted for minimum ad view requirements.
Asimi Supply And Disbursement
Asimi has a fixed maximum supply of 67MM (67,000,000)

Divisible by 8 decimals .00000000

The smallest domination of Asimi is to be called, Asi. (ass-eye)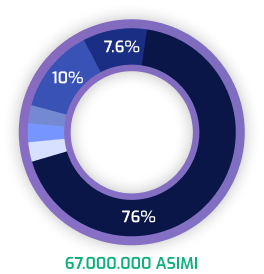 Asimi SupAd Minting Allocationply
76% of tokens are to be minted through ad views (50,920,000)

Minting efforts will deliver all-new tokens to the market at a set daily rate, to be distributed to minters each day, over the coming years.

Asimi minting allocations will follow a similar minting schedule to that of Bitcoin that has proven to be so successful.
This is intended to slowly but steadily add to the circulating supply of Asimi, without eroding the value of the token.

Bitcoin Total Supply: 21 Million
Asimi Total Supply: 67 Million (Approximately 3.2 x BTC)

This additional supply is intended to reduce the number of decimal places required.

Bitcoin mining allocations at launch: 7,200 BTC per day
Asimi mining allocations at launch: 17,438 ASIMI per day. (Approximately 3.2 x BTC based on mintable supply)

Asimi will be allocated at the rate of 17,438 new tokens per day.
The minting payout figure halves every 4 years, over a period of 100 years
These tokens will be earned by minters each day based on their minting activity.

Minters are free to use/hold/exchange their mined tokens as they choose with no restrictions.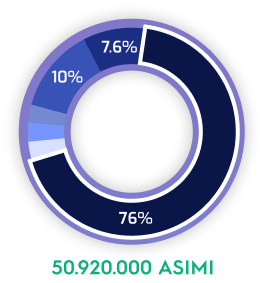 Affiliate Commission Allocation
7.6% (5,090,000) Asimi are allocated for affiliate commissions.

This simple affiliate program is a viral growth mechanism as people (affiliates) are self-motivated to promote Asimi in order to earn more Asimi themselves. Preallocating the 10% means as long as people are minting, affiliates can continue to earn recurring commissions, all pre-scheduled for decades.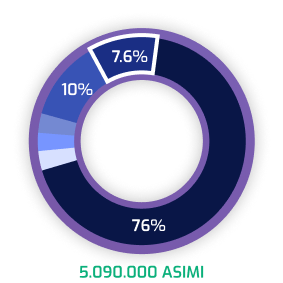 Asimi will "pre mint" 2.7% (1,809,000) of tokens to use at their discretion.

Any funds accumulated as a result of the sale of these tokens will be used for operating Asimi over the coming years and will be Asimi's sole source of income. We anticipate this to be sufficient funding for the following costs, including but not limited to: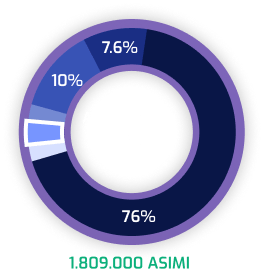 Company, Leadership, Employees Allocations
7.6% (5,090,000) Asimi are allocated for affiliate commissions.

Pre mint allocated as follows:​
Companies, founders, employees, and bonus tokens are Locked to a maximum of 2% provision allowance each month for owners of these tokens. Each month, 2% of the total owned tokens for any of the above, will be awarded to them. This would continue for a period of 50 months until all own tokens are paid. As the tokens are paid to the holder each month, they are free to do with them as they choose.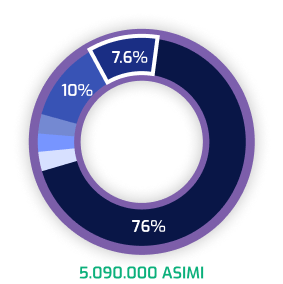 871,000 Asimi was set aside to pay staff wages and petty cash expenses for the daily operation
of websites and supporting services.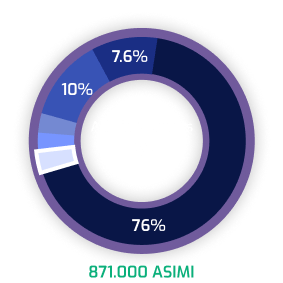 An Asimi burning mechanism was introduced to help reduce circulating supply to a maximum of 20M over time. The amount of Asimi burned weekly equates to 90% of the purchase price of the "Login Ad" product on Hashing Ad Space. Regular burning takes place weekly for the Asimi received that week. You can follow the total Asimi burned by clicking on the Asimi token in the Waves platform for a current total supply value.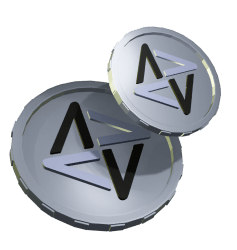 The simplicity of our idea requires a simple approach.
Blockchain technology and decentralized peer to peer verifications have changed the world.
It is a remarkable advancement in technology and one that we support with enthusiasm.

Asimi is built upon the Waves blockchain. It is fast, simple and has one of the easiest client interfaces to use,
making cryptocurrency familiar for everyone.

Asimi can be acquired and freely traded on an exchange from day one. It can be stored, sent, and received around the globe within seconds, and exchanged into both Fiat and cryptocurrencies including BTC, ETH, LTC, USD, EURO.

It isn't our goal to bring forth a new blockchain technology but simply build upon the blockchain technology already in place.

We have the development teams and community of specifically Bitcoin and Waves to thank for the opportunity to make Asimi a reality. Bitcoin bringing forward the revolutionary blockchain technology and the concept that has been adopted by many, and Waves for simplifying the technology to a platform that allows us to build our token, own it, trade it, and share it with others freely in a decentralized environment.

With all of this pre constricted genius in place, Asimi can now further simplify the minting and dispersement of tokens, helping even more people gain access to crypto currency globally through the simplistic ad minting system.
Supply, demand, and price have an unbreakable relationship, and why we believe Asimi will grow. With limited supply and a unique value proposition driving demand, price rises can occur.
A home-based business is growing rapidly as more people are realizing the enormous opportunity to make money from home. Finding a true way to earn money from home, and advertise to a targeted audience is highly sought after. ​
We have built our token economy model based on conservative sales figures. Overall, we see great things for Asimi Values.​
Advertising is a $558 billion industry*. ASIMI aims to leverage its huge capitalization, by introducing an innovative approach that enables participants to both earn money by watching advertisements while doing advertising of their own. Each user in the system is entitled to watch a certain number of free ads daily. All users that watch ads during the day, share among them the daily minting payout in ASIMI.
If the user wants to watch additional ads above their limit they can obtain a minting stake package(s), which enables them to watch additional ads. Those packages are essentially free; however, they serve an important role in the system. In order to obtain the package, the user needs to lock away his ASIMI for a certain period of time. All the coins are given back to the user gradually over time. Advertisers who wish to participate in the system can purchase ad block packages.
Reference: Global Advertising Market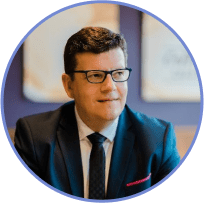 Hristo Piyankov has over 10 years of experience in analytics, data science, machine learning, big data, and AI. He was Analytics Director for one of the largest consumer finance companies within the largest consumer market in the world (China). During this time, he led several complex international projects to fruition. He has extensive experience in financial modeling and forecasting.

Hristo now works with various Blockchain start-ups, helping them assess, develop, and model their token economies and data needs. Hristo has developed the token economies for multiple ICOs (10+) and is passionate about ensuring that the token economy not only leads to a successful ICO but also a successful long-term project based on sound economic principles."