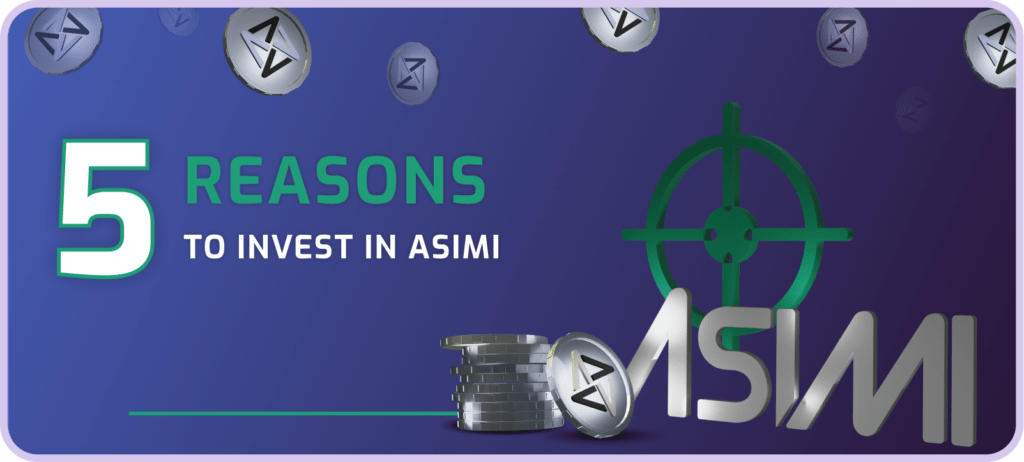 There are numerous reasons why you, too, might want to consider to invest in Asimi in 2022. Though it is a relatively new cryptocurrency, there are a host of factors that make Asimi one of the best Altcoin to buy today.
For starters, it targets the multi-billion-dollar online advertising industry. It is also a relatively new cryptocurrency and a work in progress. Its developers are already working on ground-breaking technologies that they hope will improve its investor appeal and grow its use cases.
If you are looking to create a crypto investment portfolio, or grow an existing one, here are five reasons why you should consider investing in Asimi today.
Reasons to invest in Asimi (ASIMI)
Asimi's design and future outlook make it appealing to both short-to-medium and even long-term investors. Here are the chief reasons why you should be adding ASIMI tokens to your investment portfolio.
1. Earn potentially lucrative returns
Global digital advertising is a $350 Billion industry and is expected to continue growing and break above $800 Billion over the next 5 years. Asimi tokens are centered around this industry. The token has already been warmly welcomed by the industry players seeing that it has already attracted 473,000+ users to its Hashing Ad Space program and successfully delivered 1 billion+ ad views.
Better still, ASIMI's trading activity and investor interest have helped it sustain an overall positive uptrend – in a shaky market environment – and grow its value by more than 130%. Moving forward, ASIMI token analysts and investors are confident that the Altcoin will continue eating into the multi-billion dollar market and growing its worth – and your investment by extension – at unprecedented rates.
2. Diverse your portfolio
You will also want to invest in Asimi if you are looking to diversify your investment portfolio. The token is relatively new and with a hugely promising future. It is also lowly priced and is expected to continue growing this value in the foreseeable future.
These and the fact that both the Altcoin market, the advertising niche in which it operates, and the entire crypto industry are on steady growth make ASIMI a worthy addition to any long-term investing portfolio.
3. It is a good store of value
You may also consider investing in Asimi tokens today because they are a good store of value. The Altcoin has already proved its resilience by sustaining a positive uptrend amidst one of the harshest crypto market dips. It has also posted overall positive gains amidst rising inflation, a contracting global economy, and bearish stock markets.
The resilience has proved Asimi's reliability as a store of value. You may, therefore, consider investing in Asimi as a store of value. Use it as a hedge to help preserve – and potentially grow – your investment by protecting it against inflation.
4. It is easy to get started
In addition to these other benefits, you may also want to invest in ASIMI tokens because it is easy to get started. The tokens are easily available, and the ASIMI trading platforms are easily accessible. In fact – and as a major deviation from investments in the traditional markets – it takes less than 10 minutes to create a crypto trader account and start investing in Asimi.
Additionally, most of the crypto exchanges that list the token let you start buying Asimi with as little as $10. They make it possible for virtually anyone to invest in Asimi. And if you are new to crypto investing, both the Asimi website and crypto exchanges provide users with comprehensive Asimi investing guides. They will also provide you with free digital wallets to store the ASIMI private keys, and some will give you access to free insurance for your Asimi tokens.
5. It has a first-mover advantage
If you have been following the developments in the crypto industry keenly, you will have noticed a level of specialization by different coins. Different cryptocurrencies are targeting specific industries or niches – and ASIMI tokens are no different. It has centered its operations around digital advertising targeted at online businesses and the crypto token economy.
The Asimi token is already enjoying a first-mover advantage in these highly potent niches. While there may be a couple of other tokens that focus on the marketing industry, Asimi enjoys a unique design that its developers believe gives it an edge over the competition.
There, for instance, was no ICO, but the coins were given out freely to participants of the Asimi token reward economy. The model has been immensely successful, as evidenced by the 470,000+ participants, 30+ million tokens payout, and the delivery of 1 billion+ ad views in just a few months.
Bonus: It is easily available
You may also want to invest in ASIMI tokens because they are readily available, and their trading volumes (liquidity) on key exchanges are on a steady rise. This availability and growing liquidity make Asimi particularly appealing to short-term investors.
Where to buy Asimi (ASIMI) Today?
At the time of writing, the ASIMI token is available for trading on such crypto trading platforms as XT.com, Waves exchange, HitBTC exchange, and the P2PB2B trading platform.
We expect more exchanges to list the fast-rising crypto token soon. Keep checking the Asimi token website and its CoinMarektCap page for updates on the list of crypto exchanges that list the Altcoin.
Read More: