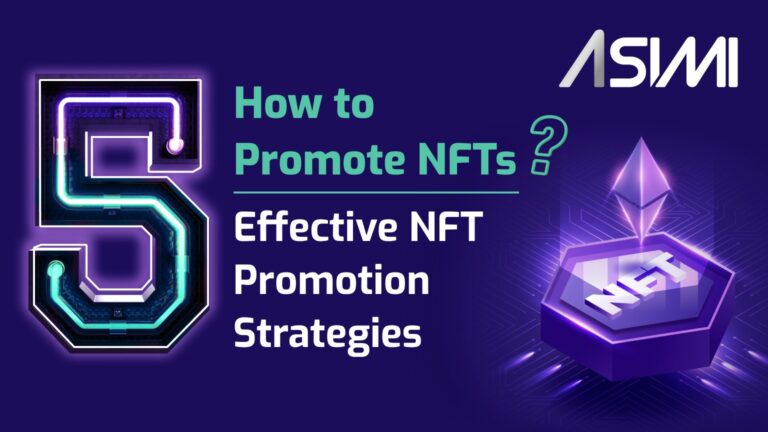 The most successful NFT projects take NFT promotion seriously. They understand that it is not enough for an NFT to be unique. You also need to make NFT collectors and brands aware of its existence if you hope to sell the collection fast. And this can only be achieved through effective NFT promotion.
You probably also know that the value of any NFT is largely dependent on the hype around it or the reputation of its creator. Therefore, effective promotion of any NFT boils down to two key things – creating hype around the collection and building your reputation as an authority in the NFT space.
In this post, we will discuss five highly effective NFT promotion strategies that you can use to hype your NFT and also build your reputation in the NFT community.
First, though, we delve deeper into the question of why NFT promotion is important.
Why is NFT Promotion Important?
NFTs are all the rage right now, implying an increasing number of individuals and brands looking to get actively involved in this crypto niche. These are typically collectors or brands that are turning to NFTs as a marketing tool.
In an age where technology has made virtually everyone an artist, hundreds – possibly thousands – of creators launch new NFT collections daily. And you are all competing to capture these collectors' and brands' attention and limited resources. Through NFT promotion, you get enough hype around your collection, earning you the elusive collector and brand attention.
Let us now discuss the five most effective ways of creating this hype.
5 Ways to Promote Your NFTs
Here are some of the most effective ways of attracting attention and hype to your NFT collection. The fastest ways to popularize and sell your NFTs.
1. Leverage your own social media accounts
Start by leveraging your own social media accounts and treating them as free tools to promote your NFTs. Notice that each NFT marketplace has made it possible for the creator to add links to their social media accounts. They have also made the process of sharing links to your NFT collection on your own and other social media pages seamless because they understand the impact these platforms have on NFT promotion.
You should use the NFTs as your profile picture on these platforms. Then come up with creative short videos about the NFT collection and share them on Instagram reels, TikTok, Facebook stories, and YouTube Shorts.
Use platforms that support sharing long-form textual content like Facebook, Reddit, Quora, and Discord to share interesting bits about the collection. Share its detailed roadmap, the perks of buying your NFTs, and any other useful information about yourself or the inspiration behind the NFT project. Inject crowd-pulling tags, keywords, and links to your collection therein.
Remember, though, it is not enough to just share links and talk about your NFT collection. You also generate interest in your collection and self when you contribute positively to the NFT community. Establish yourself as an authority figure in this niche. Host and join NFT-focused Twitter spaces, Discord, Reddit threads, Telegram groups/channels, and Clubhouses discussing NFTs.
2. Work with crypto influencers
Crypto influencers have millions of followers who look up to them for investing tips and advice. You, therefore, stand to drive a lot of traffic and sales to your collection by having one or a few of these influencers endorse your NFT project.
Simply approach crypto YouTubers and bloggers or social media influencers on Twitter, Instagram, or Facebook with a decent following and ask them to share links to your collection. Note that most of these charge top dollar for the service.
3. Create a virtual community
Almost all the most successful NFT projects have rallied an online community around their collections. From BAYC to Gary Vee and Friends, they have created exclusive virtual communities on Discord, Telegram, and other social media platforms for their NFT holders. Here, they either offer additional exclusive value or moderate interactions between the collectors.
Gary Vee, for example, promises free mentorship to his NFT holders through a private Discord channel, exclusive multi-day business conferences, and one-on-one meetings. You should also create such a virtual community for your collectors.
4. Paid advertising
You may also consider buying online ads for your NFT collection. These can be purchased from such online marketing powerhouses as Google, Facebook, Reddit, and even Twitter. You could also consider targeted ads by buying ad spaces on popular crypto and NFT-focused websites and blogs.
Some authority crypto websites and blogs like Daily Hodl will also accept promotional press releases, guest posts, and reviews. These, too, will often charge top dollar for the service, but their massive following earns your collection decent traffic, which will most likely translate to sales.
5. Start early
Start marketing your NFTs early – preferably pre-launch. List your upcoming launch with such popular NFT drop platforms like nftcalendar.io. Use an airdrop to create hype and free marketing for the upcoming launch. You should also consider dropping creative teasers about the upcoming launch.
You should also start building your reputation as an authority in the NFT niche long before the launch. Start by creating and contributing to as many NFT groups and channels as possible. Host and join Twitter spaces and Clubhouses.
Contribute to queries on Quora, Reddit, Discord, Bitcoin Talk, and other NFT forums. All the while, drop hints about your upcoming NFT collection and start recruiting members to your NFT community.
Conclusion
If you are looking to launch an NFT collection or simply popularize an existing one, you must invest heavily in promotion – both time and money. You must also understand that the promotion tactics discussed above – though effective – do not work in isolation. They complement each other. And for maximum effect, we encourage you to incorporate as many as you can into your overall NFT promotion strategy.
When shopping around for the best crypto exchange to use, CEX and DEX are two words you will most likely come across. These are simply different types of exchanges that you can use to trade cryptocurrencies.
In this guide, we will be comparing CEX and DEX side-by-side to enable you to choose the right fit for your trading needs. We will look at a general overview of each type of exchange, their differences, similarities and finally, a verdict on which exchange you should use to trade.
Read More:
>> How to Transfer Crypto to Hard Wallet
>> What is Web 3.0 and Why Is It Important?